Go with the flow back to basics - Episode 1
What is Cyber Essentials and why is it valuable?
Fancy talking to one of the experts?
Request a one to one meeting!
Just complete the form on our 'contact us' page and add 'Cyber Essentials' to your message.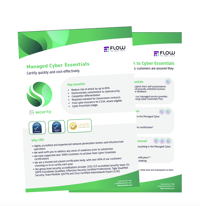 Download the datasheet - complete the form below
Discover the value of working with Flow to achieve the Cyber Essentials or Cyber Essentials Plus certification.